We have done a lot of
lapbooking
over the years and some
notebooking
.
During Dakota's 7
th
and 8
th
grade years he made bible, science and history notebooks.
Elijah and I have been working on a creation notebook for a couple of years now. He also has a stamp book, art book and a feather book.
In the fall, at co-op, Elijah will start a nature journal notebook. He is looking forward to that, so I got to thinking
notebooking
may be the way to go with him for school.
I looked through some
encyclopedia
type books we have and picked out the ones written on an easy level. Elijah and I talked about it and he is ready to get started.
The idea is for every two page spread we read Elijah will create pages for his notebook.
We will start four notebooks; animals, science, history and earth and space.
These notebooks are not meant to be completed in one year, nor to be worked in everyday.
Things Elijah can include in his notebooks:
* Writing - copy work, narrations and dictations
* Pictures - drawings, sketches, photos and clip art
* Bible verses
* Paper projects - booklets, folds
* Maps
* Diagrams and graphs
* Pressed flowers, leaves
* Worksheets
* Pages printed from the
internet
* Scrapbook pages
* Lab reports
* Outlines
* Poems
* Newspaper or magazine articles
Supplies Elijah might use:
* Colored pencils, markers, crayons
* Glue sticks
* Scissors and shape scissors
* Tape
* Stickers
* Rubber stamps
* Paints
* Glitter
* Pictures
* Magazines
* Lined paper, copy paper and card stock
* Scrapbook sheets
* Stencils
* Zip lock bags to hold things
* I also created some sheets with various size squares for drawing and writing. I'll make sure he has a lot of copies of these sheets.
Here are the books we will be using to create these notebooks.
Notebook # 1
Questions and Answers: Wild Wild World is all about animals. Elijah loves anything to do with animals so I know he will enjoy this notebook.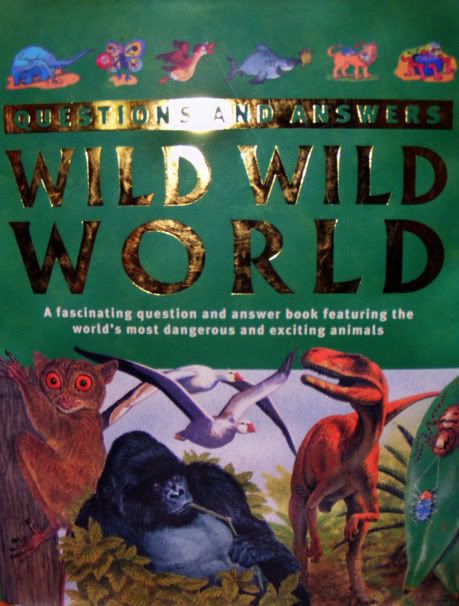 We will also use this workbook to tear pages out of and add them to the animal notebook.



Notebook # 2
Earth and Space
Elijah is full of questions about the solar system and always drawing pictures of planets and such. We also have two different hands on solar system boxed sets he has been begging to get into.
We can also use this book to tear pages out of for the Earth and Space notebook.
Notebook # 3
Encyclopedia of World History
This book starts with ancient history and covers middle ages, age of discovery, revolution and industry and ends with the modern world.
I know Elijah and he'll want to make a lot of pages about Ancient Egypt.
Notebook # 4
My First
Encyclopedia
is full of science information and even has science experiments throughout the book. Science is Elijah's favorite subject.
The best part is we already own all these books and have tons of supplies.
I will take him to buy four 3 ring binders. I would like the ones with the clear plastic on the front so he can design his own covers.
I think 3rd grade will be a good year for Elijah!